Journal Entry:
Wed Jan 20, 2010, 6:11 PM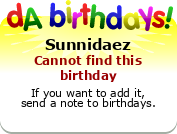 Tagged by

The Rules:
1. Post these rules.
2. Each tagged person must post 10 things about themselves on their journal.
3. At the end, you have to choose and tag 5 (sorry but I lowered the #) people and post their icons on the same journal.
4. Go to their pages and send a message saying you tagged them.
5. No tag-backs.
Factoids:
1. I LOVE fried green tomatoes!!!!
2. I am lazy.
3. I usually eat lots of veggies, umm and junk food.
4. I watch stupid sit coms repeatedly.. well, the tv is on for noise...I leave it on the disney channel!
5. I live a very lonely life.
6. I love the smell of patchouli. And I admit it.<--- ME TOO!!!!!!
7. I love to sit and people watch, I make up pretend conversations of people I cannot hear, just for my own amuzement.
8. I am addicted to my ipod and listening to books. Am currently on book 4 of 'The Sword of Truth"
9. I agree with the song... "you get what you put in and people get what they deserve" umm guess I dun deserve alot

10. I am about to become a grandmother for the 3rd time.
I hereby tag:





My CSS template, with many, many thanks to

Clubs